Registered Product Search
Malaysia National Pharmaceutical Control Bureau : Registered Product Search
| | | | |
| --- | --- | --- | --- |
| No Plans To Segregate Male And Female Passengers In LRT Coaches | | | |
No Plans To Segregate Male And Female Passengers In LRT Coaches
KUALA LUMPUR, April 10 (Bernama) -- RapidKL Sdn Bhd, the light-rail transit (LRT) system operator, has no plans to segregate male and female passengers in its trains.
The company's general manager (Corporate Communications) Katherine Chew said passengers using the LRT service were aware of over-crowding in the trains, especially during peak hours.
"We have passengers who are accompanied by their partners or family members and will not want to be separated. Furthermore, we have not received any complaints of discomfort," she said when contacted by Bernama here today.
She was commenting on a proposal by Datuk Mohamad Aziz (BN-Sri Gading) in parliament yesterday to segregate male and female passengers in the LRT trains to avoid sexual harassment, especially during peak hours.
Chew said if passengers were sexually harassed when using the LRT service, they should lodge complaints with the officers in-charge at the respective platforms for action to be taken.
She said the company had yet to receive complaints of sexual harassment from its LRT commuters as a result of over-crowding.
She added that any proposal would have to be studied to determine its suitability for implementation.
"We are also increasing the number of trains from time to time to avoid over-crowding which is now done during peak hours, where the frequency is increased to every five minutes at the Ampang and Seri Petaling stations, and every three minutes at the Kelana Jaya station."
More people are using the LRT and monorail, recording 125.8 passengers last year, with the LRT-Putra system recording an average of 160,000 passengers daily or 56.7 million a year and the LRT-Star, 140,000 passengers daily or 49.8 million passengers a year.
The KL Monorail service recorded 50,000 passengers daily or 19.3 million passengers a year despite covering a distance of only 8.6km.
Source from; www.bernama.com.my
Manifesto PRU - 13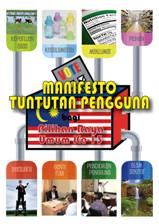 Maut turun Manifesto disini
REPORT SAFETY INCIDENTS
Consumers and businesses
Click below for consumers' incident report form
and
Click below for business incident report form.
Click
here
to go to the APEC PSIISS website