Registered Product Search
Malaysia National Pharmaceutical Control Bureau : Registered Product Search
| | | | |
| --- | --- | --- | --- |
| Ferry services to be upgraded | | | |
KLUANG (JOHOR) - MALAYSIA will be upgrading its ferry services between Johor and Singapore to boost tourism and economic development in Johor, the China Press has reported.

The plan involves adding two more services - one between Tanjung Penggeli and Tanah Merah, and another that will ply between Stulang Laut and Tanah Merah.
Transport Minister Ong Tee Keat said the two services would begin operations this year.
Stulang Laut currently operates services to Batam in Indonesia.
The existing ferry service to Singapore is the one between Tanjung Penglengkor and Changi.
Datuk Seri Ong, who announced the plans on Sunday night, said the ferry services at Tanjung Penggeli and Stulang Laut would be privately managed.
He added that a new feature at the Tanjung Penggeli terminal would be the use of ferries.
Currently, small fishing boats are used to ferry travellers using the port, and many of them have raised safety issues.
Johor state assemblyman Hoo Seong Chang said that because of this, the port attracted only 1,500 users a year, despite the government having spent RM30 million (S$12 million) building the port, the China Press reported yesterday.
Mr Ong, who is also the president of the Malaysian Chinese Association, is confident the upgrading of the ferry services will bring great benefits to Johor's tourism industry.
According to Mr Hoo, Tanjung Penglengkor, which has a ferry service to Singapore, has a passenger volume of about 16,000 users a year.
Manifesto PRU - 13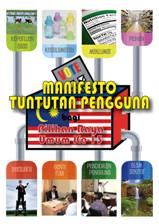 Maut turun Manifesto disini
REPORT SAFETY INCIDENTS
Consumers and businesses
Click below for consumers' incident report form
and
Click below for business incident report form.
Click
here
to go to the APEC PSIISS website