Registered Product Search
Malaysia National Pharmaceutical Control Bureau : Registered Product Search
| | | | |
| --- | --- | --- | --- |
| Building blocks of good nutrition By Dr TEE E SIONG | | | |



Good guide: The Food Guide Pyramid is a basic yet effective tool to help you feed your child nutritiously.


Practising the basics of good nutrition helps ensure your child's health and wellbeing.


THE sight of overweight children in shopping malls has become increasingly common in recent years. Indeed, more children are being overfed these days. However, we should also realise that there is a significant number of undernourished children in the country.




Be it overweight or underweight, both are consequences of malnutrition, a condition resulting from an unbalanced diet. Excessive nutritional intake can lead to over-nutrition, and thus the problem of overweight.




On the other hand, inadequate food intake, which may be due to wrong feeding practices, or children being picky or having poor appetites, causes nutrient deficiencies, and consequently underweight children.


Good nutrition is vital for growth


Good nutrition during childhood is vital as it supports the needs of your growing child in many ways. While he continues to gain height and weight, he is also physically very active. He needs adequate energy and nutrients to keep up with his growth, while maintaining his bodily functions and overall health.




As your child actively interacts with the environment and people, he is exposed to a host of health threats, such as bacterial and viral infections. Good nutrition helps to keep his immune system strong, as well as promotes quicker recovery if he falls sick.




Good nutrition is also essential for a child's mental development. Your child's brain and nervous system need to be well nourished to function optimally. With the support of good nutrition, your child will be better prepared for active learning, and to excel academically.




To achieve optimal growth and development, your child needs various nutrients, which can be obtained from his daily diet, to serve different functions.


Carbohydrates
> The body's preferred source of energy.

> Carbohydrate (e.g. starches, sugar) is broken down to glucose, which is used to fuel all bodily functions and provide energy.

> Glucose is the only source of energy for your child's brain.

> Good sources of complex carbohydrates include rice, wheat, oats, barley and their products (e.g. mee hoon, kuey teow, bread, biscuits and breakfast cereals), as well as tubers such as potatoes, sweet potatoes and yam.
Protein
> The building block for bones, blood and muscles.

> Repairs, replaces and makes tissues to ensure optimum growth.

> Protein is made of amino acids. The body needs 22 amino acids: 14 can be made in the body, eight can only come from foods (essential amino acids).

> Protein can be obtained from animal sources (e.g. fish, poultry, meat, eggs, milk and dairy products) and plant sources (e.g. beans, peas and lentils).
Fats
> Provide energy, fat-soluble vitamins and essential fatty acids that can only come from food.

> Maintain body temperature, and make hormones and cells in the body.

> Common sources are cooking oil (e.g. palm oil, soybean oil). Unsaturated fats, such as those from fish, legumes, nuts and seeds, are good sources of dietary fats. Intake of saturated fats from animal sources, such as ghee and lard, as well as coconut, should be reduced.
Vitamins and minerals
> Maintain growth and overall health, as they perform important functions in the body.

> Required in small amounts, cannot be manufactured by the body, and must be obtained from food.

> Requirements can be met if we consume a variety of foods from the various food groups in the food pyramid.
Water
> Maintains the body's fluid balance.

> Absorbs metabolic heat within the body.

> Serves as a medium for transport within the body (e.g. delivery of nutrients to different parts of the body, removing waste from the body).
Practise the basics
As parents, you are in the best position to ensure that your child receives the best nutrition. Fortu­nate­­­­­ly, you don't need to have a degree in nutrition to do this. The principles are simple – it's about providing the right foods, at the right time, and in the right amounts.
Always refer to the Malaysian Food Pyramid as your guide on food choices. Serve your child all the five food groups in the pyramid, and do so according to the number of servings recommended. Remember to vary the foods from day to day because no single food can meet all the nutritional needs of your child.
Even if your child dislikes certain foods, you can always provide alternatives. For instance, if he doesn't like spinach, serve kangkung; if he refuses fish, give chicken. The bottom line is to give your child a mix of healthy foods that provide an array of nutrients to support his various needs.
Knowing what to feed your child is not enough. How you serve and how he eats also influence his nutritional intake. Here are some tips on good dietary habits for parents to put into practice:
> Make sure your child eats breakfast before going to school. A nutritious breakfast helps to kick start his day, gets his metabolism going, and provides him the energy to learn and play at school.
A good breakfast can be as simple as one glass of milk, accompanied with a bowl of breakfast cereals or a tuna sandwich. For parents who are rushed for time in the morning, plan and prepare the ingredients the night before.
> Make sure your child gets three main meals and two snacks every day. Snacking in between meals helps keep your child energised throughout the day. Choose healthy snacks for your child, e.g. plain crackers, fruits and yoghurt.
However, snacks should not replace main meals. Do not give snacks two hours before meal times to avoid spoiling your child's appetite for his main meals.
> Prepare a healthy snack box (e.g. sandwiches, cut fruits) for your child to bring to his kindergarten or school. This is one way to ensure he is eating healthily even when he is not at home.

> Instead of deep-frying your food, use healthy cooking methods such as steaming, stir-frying, baking and grilling. Limit the use of fat, sugar, salt and seasoning in your cooking.

> Though your child needs appropriate amounts of fat for growth and development, watch out for hidden fats in meat and fried foods.

> Serve your child milk every day. Don't stop just because he has started schooling. Also, encourage him to drink six to eight glasses of plain water daily. In addition, you can also give your child other fluid sources, such as soups and juices, preferably low in fat and sugar.

> Try to eat together as a family at least once a day, and serve healthy home-cooked meals. Not only is it good for health, but it is also an opportunity to teach your child about healthy eating.

> When eating out, don't hesitate to ask for food to be prepared the healthier way, e.g. less salt, less oil, and more veggies, and less sugar in drinks. If the serving size is too big for your child, consider sharing.
Good nutrition is more than just preventing overweight or underweight in children. It is the foundation to shaping their health in the long term. So start inculcating healthy eating habits in your child from young, so that he enjoys optimal growth and development, as well as good health in the future.
Source from: The Star
Manifesto PRU - 13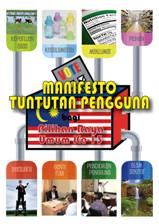 Maut turun Manifesto disini
REPORT SAFETY INCIDENTS
Consumers and businesses
Click below for consumers' incident report form
and
Click below for business incident report form.
Click
here
to go to the APEC PSIISS website