Registered Product Search
Malaysia National Pharmaceutical Control Bureau : Registered Product Search
| | | | |
| --- | --- | --- | --- |
| ISO 9001—Its relevance and impact in Asian Developing | | | |
Number of ISO 9001 accredited certificates


The countries involved in this project were Bangladesh, Bhutan, India, Indonesia, Malaysia, Maldives, Nepal, Pakistan, Philippines, Sri Lanka, Thailand and Viet Nam. The latest figures available from the ISO (based on December 2009) show that there were 68,563 accredited certificates to ISO 9001 in these countries, representing 6.44% of the worldwide total of 1,064,785 certificates.
Note:
UNIDO together with ISO, IAF and the local accreditation body embarked on a research project in 2009 to study the impact of the ISO 9001 certification in the developing Asian economies of Bangladesh, India, Nepal, Pakistan, Sri Lanka, Indonesia, Malaysia, Philippines, Thailand and Vietnam.

The project aimed to answer the following key questions:-
(1) Are organizations in Asian developing countries deriving tangible benefits through ISO 9001 certification?
(2) Are Certification Bodies carrying out the certification process effectively?
(3) Are the various expectations of different stakeholders being met?
Key findings:
Economic benefits
There were clear empirical economic benefits to the effective implementation and accredited certification of quality management systems in the manufacturing sectors of the Asian developing countries in which the project was conducted.

Credibility of ISO 9001
Overall, the perceptions of both the ISO 9001 standard and accredited certification to ISO 9001 in the region are good, though the role of accreditation is not well understood either by purchases or by certified organizations.


Purchasers perceptions of their ISO 9001-certified suppliers
The purchasers surveyed were mainly satisfied with the performance of their ISO 9001-certified suppliers (with some exceptions), and, in general, ISO 9001-certified suppliers performed better or much better than non-certified suppliers, based on a number of parameters. One of the concerns that was identified, however, was the poor responsiveness of certified organizations to customer complaints.

Lack of transparency in some certification bodies
A number of certification bodies in the region (mainly franchisees of overseas certification bodies) refused to provide any information about the organizations they had certified. This raised doubts about the level of transparency and openness of the certification bodies (one of the core principles mentioned in ISO/IEC 17021 [2] in order to promote confidence in accredited certification).

Performance of certified organizations
Overall, the performance of the 561 certified organizations that were visited was good, and demonstrated the effectiveness of the accredited certification process within that sample. However, a small percentage of the organizations visited demonstrated unsatisfactory results, which emphasizes the need to avoid complacency and to drive further improvements in the accredited certification process.

Use of the quality management system to drive improvement
There is very little awareness in the region about the ISO 9004 guidance standard (ISO 9004:2009 - €Managing for the sustained success of an organization- A quality management approach.  This standard is not used for certification purposes but provides recommendation on how to use the quality management system to drive continual improvement and achieve long-term (€œsustained€) success.

Handling of customer complaints
There is a very low awareness among all users (purchasers, certified organizations, certification bodies, consultants and others) about the ISO 10002:2004 Quality management - Customer satisfaction - Guidelines for complaints handling in organizations€) . This is particularly important in light of the relative dissatisfaction of purchasers with the way in which their certified suppliers deal with complaints.

Performance of small and medium enterprises
The results confirm that the level of confidence in the performance of small and medium sized enterprises (SMEs_organizations with less than 250 employees) is lower than for larger organizations.


Use of consultants
The vast majority (over 80%) of the certified organizations surveyed had used the services of a consultant to help with the implementation of their quality management system. This was more pronounced for micro, small and medium organizations.

Audit duration
Interestingly, in spite of previous anecdotal evidence to the contrary, the results indicate that certification bodies, in general, respect the audit durations prescribed by the IAF Mandatory Document MD5 . In particular, audit durations for micro, small and medium enterprises tend to exceed the recommendations of IAF MD5.

Weak areas of implementation of ISO 9001
The weakest areas of implementation that were identified during the visits to certified organizations were:
A general lack of focus on preventive actions;
Poor use of the €œPlan-Do-Check-Act€ approach (ISO 9001 Clause 4.1) to manage the quality management system (QMS) processes;
Poor culture of continual improvement;
Lack of adequate cause analysis and effective corrective action for process, product and system non-conformities;
Little use of the "process approach€ throughout the organization.
Differences in performance of certification bodies and accreditation bodies
Notable differences were observed in the performance and level of confidence in organizations certified by different certification bodies and under accreditation from different accreditation bodies. Detailed information is being made available on an individual basis to those involved.

Performance of local franchisees of foreign certification bodies
The survey clearly highlighted the relatively poor performance of organizations that had been certified by local franchisees of foreign certification bodies, when compared with local certification bodies or branch offices of international certification bodies.


Time taken to implement and certify the quality management system
A clear trend was observed that showed that more recently certified organizations are achieving certification in shorter times than those that have been certified for longer periods. The visits to certified organizations confirmed, however, that the level of confidence in the quality management system of those organizations that had spent less than six months implementing their system was substantially lower than in that of those who had taken longer.


Manifesto PRU - 13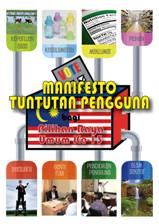 Maut turun Manifesto disini
REPORT SAFETY INCIDENTS
Consumers and businesses
Click below for consumers' incident report form
and
Click below for business incident report form.
Click
here
to go to the APEC PSIISS website