Registered Product Search
Malaysia National Pharmaceutical Control Bureau : Registered Product Search
| | | | |
| --- | --- | --- | --- |
| ISO begins work on standard for more customer-friendly utility bills | | | |
ISO has begun work on a standard that will establish a harmonized and transparent framework for billing information of network services, such as electricity, water and gas.
The project committee developing the standard, ISO/PC 239, Network services billing, met for the first time in June 2009, in London, United Kingdom (UK).
Participants from around the world actively discussed the scope of the future standard (ISO 14452), which will promote more customer-oriented billing practices and service provision.
Although billing systems vary from country to country, and from industry to industry, participants agreed to target utilities such as electricity, water, gas and communications, with the support of the International Electrotechnical Commission and the International Telecommunication Union, as well as other key organizations in the field.
The committee also issued an open call for interested parties wishing to get involved (through the ISO member of their respective country). Already, seven countries have participant status in ISO/PC 239, while an additional five are observers. Among its members, Israel (who holds the Secretariat), the Republic of Korea (who holds the Chair), the Netherlands and the UK were present at the first meeting, together with an Asian consumers group.
ISO/PC 239, Network services billing, was established following a proposal from the ISO Committee on consumer policy (ISO/COPOLCO), which noted that billing makes-up a substantial part of overall consumer complaints against utilities. A study carried-out in 2004 by Energywatch, the gas and electricity consumer council in the UK, suggested that up to a third of customers regularly contact their energy suppliers to query or complain about their bills. According to the study, this could amount to as many as 60 million unnecessary contacts per year.
The future International Standard will provide a market-based and market-sensitive approach for dealing with consumer concerns. It will make it easier for customers to read and understand their bills and verify the accuracy of charges. The standard will also encourage a timely delivery of bills and help overcome language and cultural barriers. It may contribute to reducing consumer debt arising from poorly understood or late bills.
ISO 14452 will also benefit suppliers by increasing customer satisfaction, promoting confidence in service providers and lowering costs brought by customer complaints.
"This effort is particularly timely" said Dr. Vokyung Song, Chair of ISO/PC 239 "given the continuous growth of cross-border trade which calls for harmonized approaches to billing. ISO 14452 will help businesses to become more competitive in the global marketplace. It will also make it easier for customers to compare providers and make informed choices," concluded Dr. Song.
The event was hosted by the ISO member for the UK, the British Standards Institution (BSI).
Manifesto PRU - 13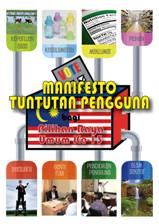 Maut turun Manifesto disini
REPORT SAFETY INCIDENTS
Consumers and businesses
Click below for consumers' incident report form
and
Click below for business incident report form.
Click
here
to go to the APEC PSIISS website