Registered Product Search
Malaysia National Pharmaceutical Control Bureau : Registered Product Search
| | | | |
| --- | --- | --- | --- |
| Jewelry firms win product safety battle | | | |
ATTLEBORO – The Consumer Product Safety Commission (CPSC) in Washington D.C. voted this week to exempt precious metals and gemstones from the testing and certification requirements for children's products covered by the Consumer Product Safety Improvement Act.
The Manufacturing Jewelers & Suppliers of America (MJSA), which announced the decision in a news release Thursday, has been lobbying in Washington for the exclusion on behalf of its members who manufacture jewelry for children.
"The jewelry industry has won an important victory over unnecessary regulation," said David Cochran, MJSA president and CEO. He noted that the MJSA worked with the Fashion Jewelry Trade Association (FJTA), based in North Kingstown, to prove that precious metals and gemstones are either lead-free or contain such small amounts of lead below federal safety requirements.
The exclusion applies to gold (at least 10 karat), sterling, diamonds, rubies, emeralds, sapphires, semi-precious gemstones and minerals, as well as to platinum group metals that include platinum, palladium, rhodium, osmium, iridium and ruthenium, according to the MJSA.
The commissioners also voted to exempt the following materials sometimes used in children's jewelry manufacturing from the new law, according to MJSA: titanium, most kinds of stainless steel, pearls, coral, amber, wood, natural and man-made fibers, bone, seashell, feathers, fur and leather.
The exclusion was granted provided that materials have not been treated or changed in ways that would result in the addition of lead, MJSA said, and does not apply to non-steel or non-precious metal components of a product, such as solder or base metals in electroplate, clad or fill applications.
The Consumer Product Safety Improvement Act, signed into law in 2008, is designed to limit the amount of lead contained in products made for children, running the gamut from books to all-terrain vehicles. The law requires the manufacturers of children's goods to have products tested for lead content, with the results certified in writing. The law makes it illegal to sell children's products that contain more than 300 parts per million of lead, a standard that took effect Aug. 14.
The MJSA and FJTA, locally-based trade groups that represent thousands of jewelry-makers in the United States and around the world, attempted unsuccessfully to obtain an exclusion for crystal beads, including rhinestones, but the CPSC last month voted down the request.
Manifesto PRU - 13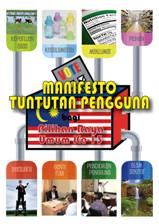 Maut turun Manifesto disini
REPORT SAFETY INCIDENTS
Consumers and businesses
Click below for consumers' incident report form
and
Click below for business incident report form.
Click
here
to go to the APEC PSIISS website